3 Best Monitor Arms to Buy to Make Your Home or Office Setup Posture-Friendly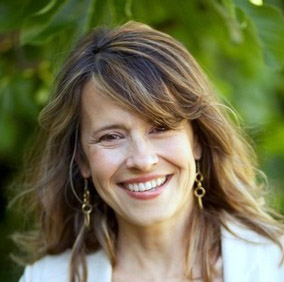 Kelly Brook, Contributor
Updated: May 19th, 2022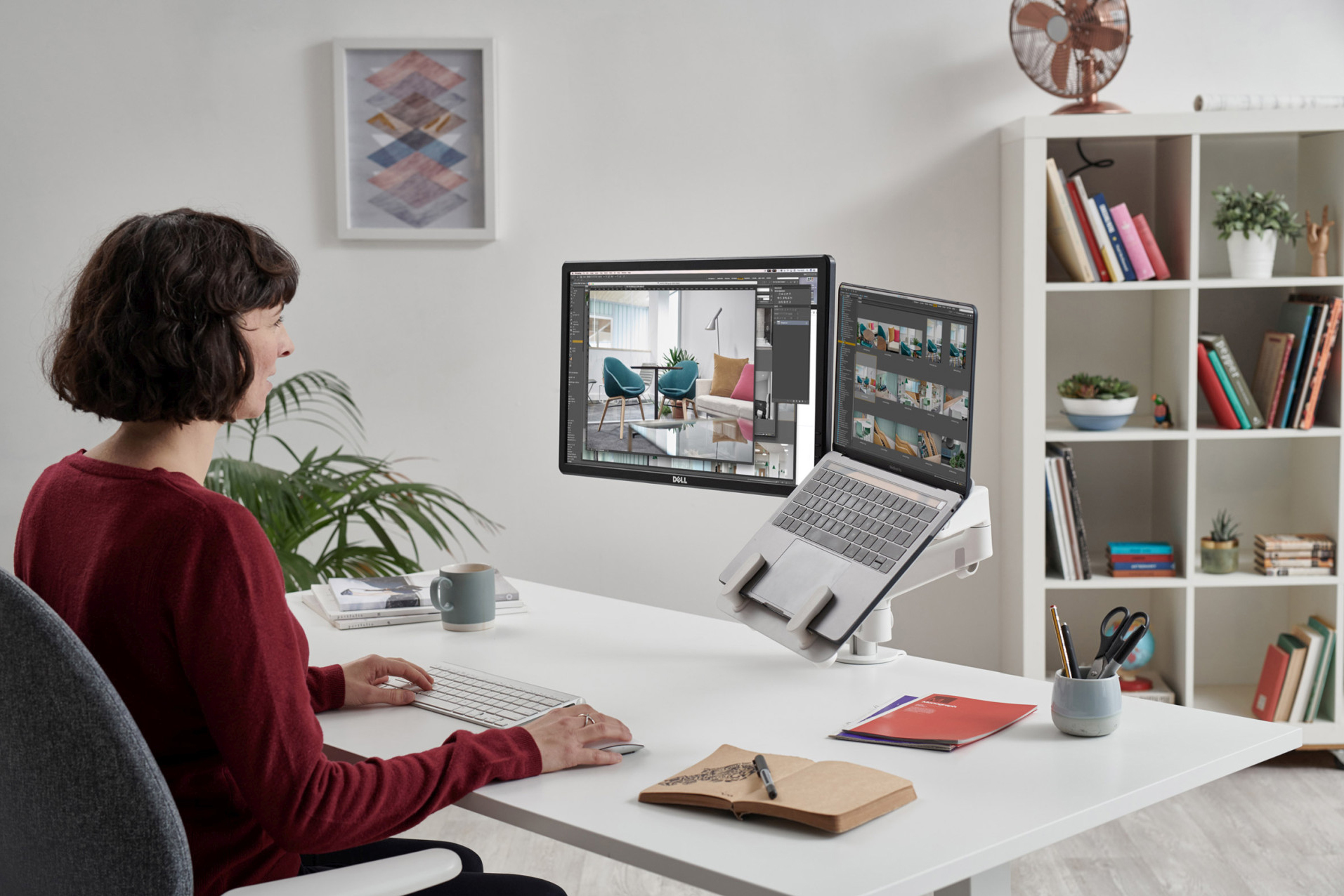 Whether you're complaining about back or neck pain or a cluttered desk, the Best Monitor Arm can help you position your work desk properly: eye-level vision, correct ergonomics, and even a sense of order to a seemingly mess-up table. These easy-to-install computer accessories work to make your office or at-home setup 100% posture-friendly and stress-free so that you'll never have to find yourself stuck in a hunched goblin pose ever again.
However, with so many options on the market, it can be challenging to know which one fits your needs. More so, which ones are up to standards to achieve a stable and durable setup. So to spare you the struggle of searching for a monitor arm that gets the job done, we've reviewed over 30 products to determine which ones are the best to buy. We round up this list to our Top 3 Favorites so you'll have the easiest decision-making. So no matter if you're looking for a single or double monitor arm, there's one for you.
Read along.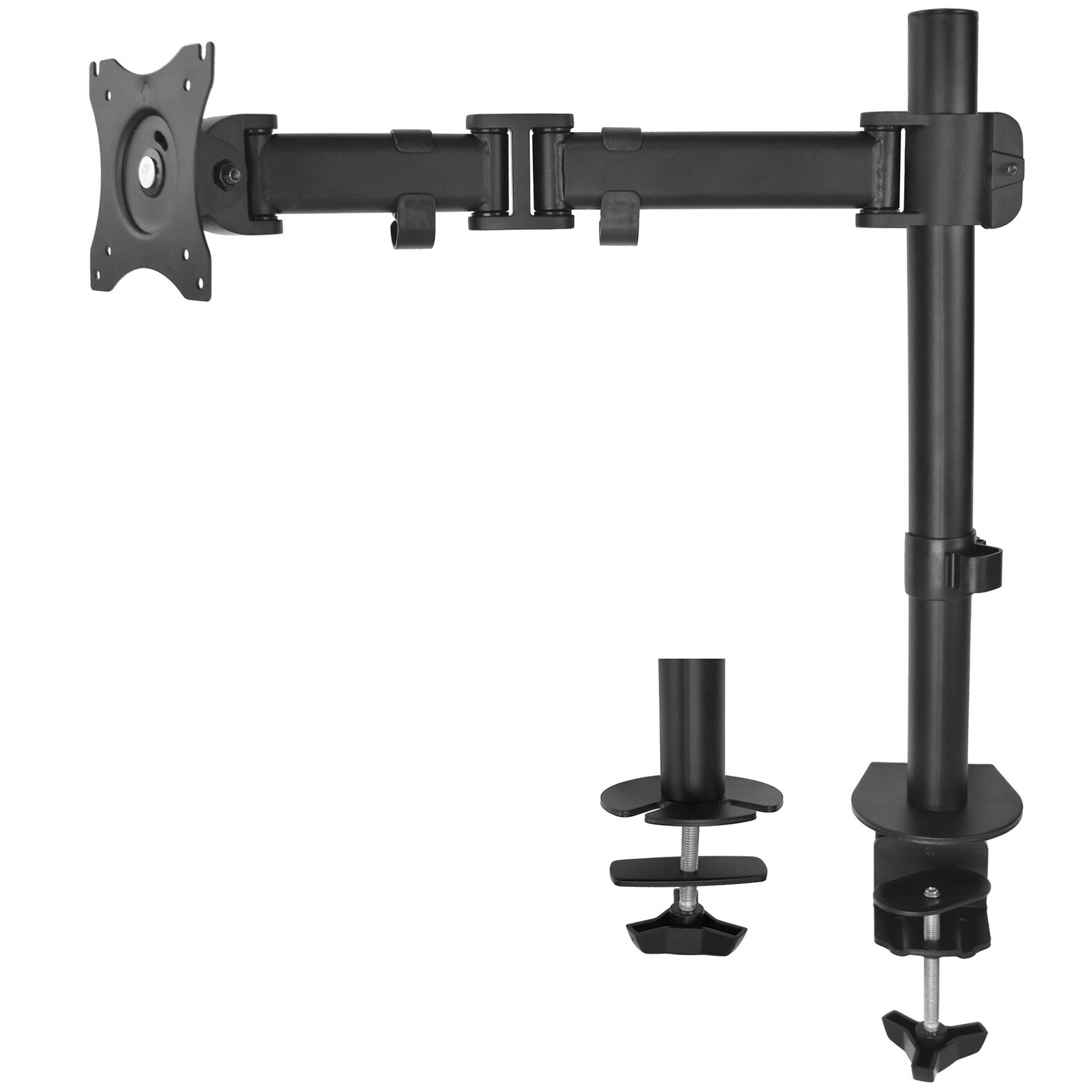 We picked the InTrax Pro as our #1 because it covers everything you need to make your one-monitor-office-desk posture-friendly and pain-free. Whether you want your monitor in portrait or landscape mode, this monitor arm allows you to achieve an optimal viewing experience to boost productivity and eliminate distortions.
Aside from its flexibility, its construction is also something you can rely on. Unlike other products that tend to tip over once installed, the InTrax stays in place no matter how much you twist or turn it — thanks to the heavy-duty "C" clamp that really guarantees a stable monitor arm. The ergonomics that come with this product are way above its competitors. Imagine having the ability to tilt up to 15°, swivel up to 360°, and rotate up to 360°? For sure, you'll never have to complain about eyestrain or back or neck pain again, no matter how long you sit in front of your computer.
One more thing that's impressive with the InTrax is its adjustable height. You can lower or raise your monitor within the 17.5" center pole to establish that eye-level viewing comfort. This feature also makes the InTrax fit with whatever size of table you use for your workstation. And you can even opt for a grommet installation if available.
For its compatibility, the InTrax fits screens from 13" to 32". It also supports ultrawide screens of up to 38". The InTrax follows a standard VESA mount with 75 x 75 mm and 100 x 100 mounting holes. 
Overall, this monitor arm from InTrax is an excellent choice for people spending long hours sitting in front of their screens. It's perfect for achieving that healthy, eye-level vision to prevent any pain and, at the same time, lessen clutter with its intelligent cable management system.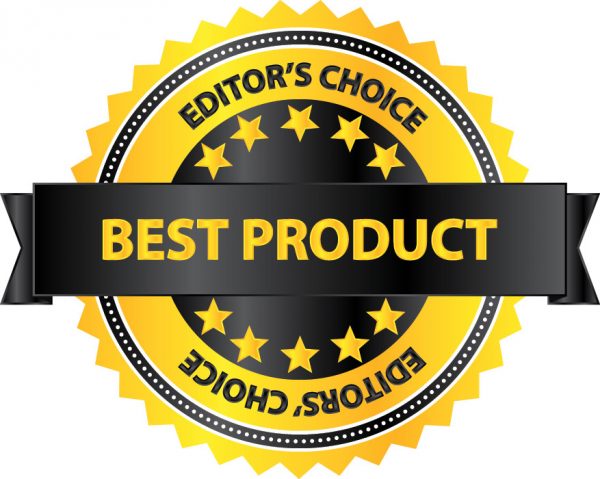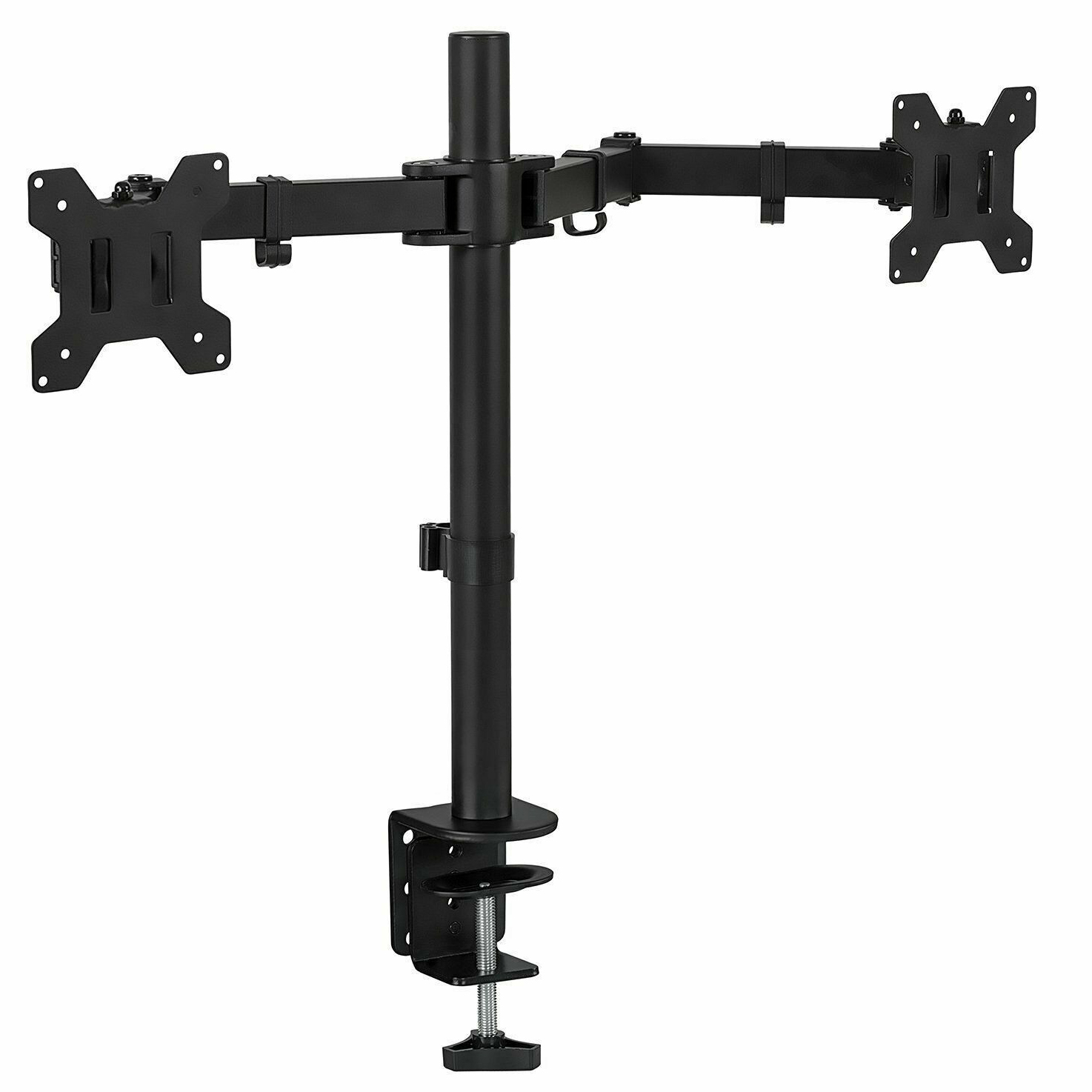 For the hustlers and digital hard earners, here's a monitor arm that can make your long hours less grueling. The SmartPosts Dual Monitor Arm is a fully adjustable monitor arm that gets the perfect position to make eye-level comfort and soothing ergonomics plausible. You can tilt it up to ± 90°, swivel it up to 180°, and rotate it up to 360° to achieve the best viewing angle. So regardless of whether you're doing designs, codes, or white-collar tasks, this monitor arm works to lessen discomfort and boost productivity.
But that doesn't end there. The SmartPosts Monitor Arm comes with an adjustable height to help you further achieve that desired comfort level. Each arm can even be extended up to 15" to suit your desired setup. You can reposition the accessory according to your needs to eliminate distortion and end those annoying unaligned monitors.
Here's what's even more impressive. You can customize your setup depending on the task you have at hand. You can view your monitors in landscape, portrait, or both to accommodate your varying needs. 
For its compatibility, the SmartPosts also follow standard VESA-mounting using 75 x 75mm or 100 x 100mm holes. This monitor arm can handle up to 22 lbs per screen and can be installed via a "C" clamp and grommet.
In our take, the SmartPosts Monitor Arm is a better option than most dual-monitor counterparts. It's stable, smooth, and easy to use. And for its price point, you'll never go wrong with this one.
We're big fans of the DeskCase Full Motion Monitor Arm for the very reason it's sturdy and flexible. No matter how much you push, pull, tilt, or rotate the arm, there's a certain sturdiness that really feels comforting. And just like most top-shell monitor arms on the market, this one offers to maximize ergonomics and adjustments to achieve your ideal (and healthy) working position. It can tilt up to ± 90° and rotate up to 360° for an optimal viewing experience.
What's even more impressive about this monitor arm is its gas spring arm to lower or raise your monitor. Unlike other products that go up and down via a center pole, this one swings in a circular motion to establish that perfect position to maintain proper posture and eliminate pain.
Moreover, its heavy-duty and aluminum finish gives this monitor arm a premium look. Not only does it correct your posture while working, but it also saves space.
The DeskCase Monitor Arm is suitable for monitors measuring 17" to 27". This design is often used for flat-panel monitors with VESA mounting of 75 x 75mm and 100 x 100mm. So if you have one of those expensive monitors that fit such specifications, the DeskCase Monitor Arm is the perfect accessory to level up your office or at-home workstation.
Getting yourself a top-quality monitor arm can help level up your workspace and make it posture-friendly and ergonomically positioned to end those endless back and neck pain and eyestrain you get when working long hours on your computer. But for you to take advantage of the benefits of this accessory, there are a few considerations you need to know before clicking that purchase button.
#1. What's your ideal setup?
The first thing you need to consider is how many monitors you plan to mount. Monitor arms come in many variations, so choose according to your current setup's needs to guarantee a less cluttered workspace.
#2. "C" Clamp or Grommet?
Some monitor arms on the market only support one type of installation, but some offer both. We recommend going for monitor arms that support both installations to ensure you're not limited in customizing your workstation.
#3. Quality is Key
The construction of the monitor arm contributes to its performance. You don't want your monitor tipping over mid-work, right? A top-quality monitor arm is made using heavy-duty materials or an aluminum finish to ensure it can withstand the weight of the monitors mounted.
#4. Adjustability is also Key
There are times when your preference changes when working. Sometimes you want to do things standing up or maybe a little laid back. Monitor arms with excellent adjustability like their height and the arm's length can do wonders in providing you your desired comfort at any time of the day.
#5. Other Features
Additional features such as a cable management system, improve airflow, etc., can further level up your workstation.
Conclusion
All the products highlighted in this list passed through our test and have been proven to deliver their service promise. Each one of them is highly recommended by our experts so that you'll have the most straightforward decision-making process. You can purchase them via our website and enjoy special discounts.