These 4 Best Monitor Stands of 2022 Will Boost Your Productivity by Ending Excessive Slouching and Keeping Your Desk Tidy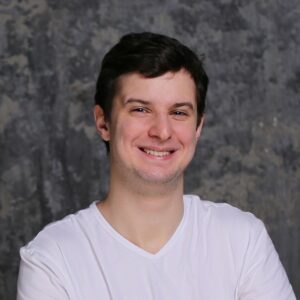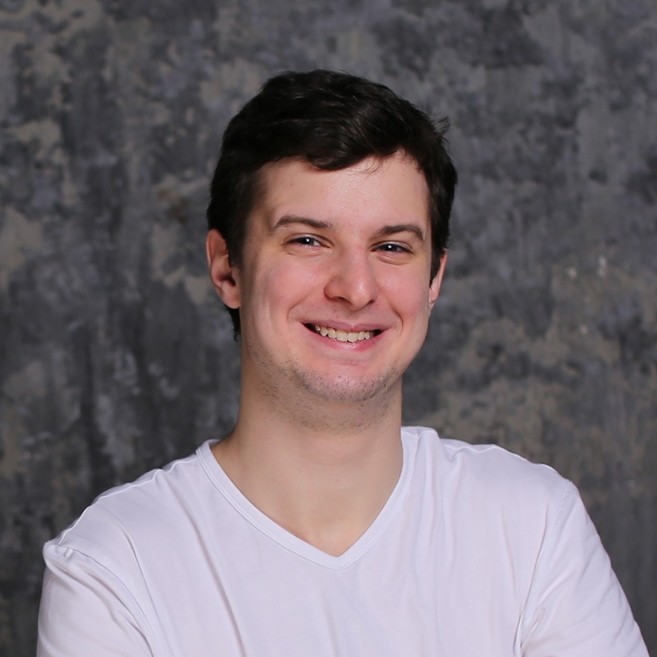 Nathan Gabriel, Contributor
Updated: Apr 5th, 2022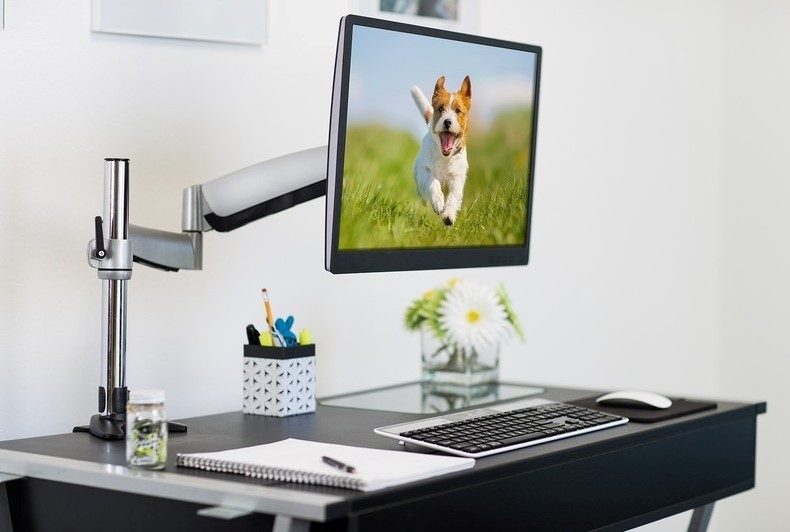 How to boost your productivity? Here's the insider scoop: proper workplace ergonomics. You know that keep your monitor eye-level and back and feet flat rule. So if you've been dealing with excessive slouching or a cluttered desk for a long time and it's affecting your productivity — it's time to upgrade! But if you're not ready for a complete workspace makeover, a monitor stand can get you the perfect set up to make "working on your computer" posture-friendly and stress-free.
However, with so many options available on the market, it can be challenging to find what fits your needs. There are tons of designs and variations to choose from, and you can't really be sure if it'll work with your current setup or not. So to help you find the perfect monitor stand that matches your needs, we've tested over 30 products to determine the best in any given scenario. Whether you're looking for a monitor stand to mount your screens or mini frames to raise your monitor at a fixed position — we got you!
This list comes with 4 of the Best Monitor Stands, perfect for all specifications. So read along.
Got no time to read? Here's a quick glance!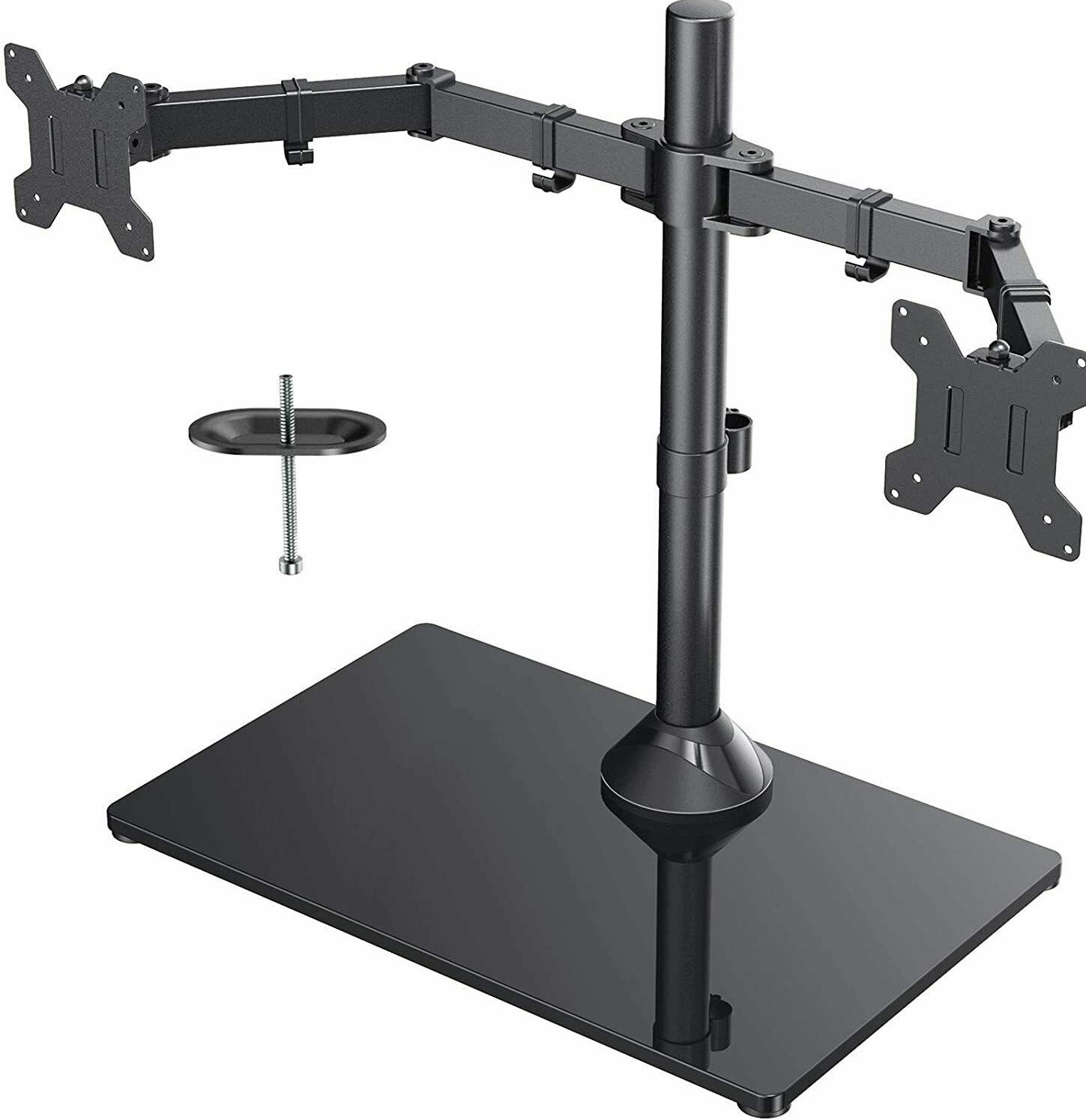 We picked the SplitScreeners Monitor Stand as our #1 because of its versatile and sturdy design. This one works for monitors up to 27," and each arm handles up to 22 lbs of weight. For its compatibility, it fits VESA-mounting of 75 and 100 mm systems — so technically, it works with almost everything!
What's impressive about this monitor stand is that it offers boatloads of movement flexibility. You can tilt it up to ± 45°, swivel it up to 90°, and rotate it up to 360° to achieve your desired comfort level. You can even adjust the height to 17.7" along the center pole to ensure you see your screen at eye level to prevent hunching over.
The SplitScreener's ergonomics are what made it a go-to product for next-level monitor setups. You can change display modes between landscape or portrait, or both to accommodate your needs. It's designed to ensure you'll never have to deal with unaligned screens that often result in eyestrain. 
For its construction, the SplitScreeners Monitor Arm is made using heavy-duty steel. It can withstand all abuse and guarantee to stay in place no matter how much you twist or turn your monitors on a busy day. And if you're one of those who had terrible experiences with "C" clamp installations, the SplitScreeners offer you a free-standing setup or opt for a grommet if available.
When it comes to keeping your desk clean, the SplitScreeners is a perfect accessory to free up some valuable space. And cleaning it is a breeze since its base is made of toughened glass that you can wipe with a cloth easily. It even comes with a cable management system to keep everything tidy. Overall, the SplitScreeners Monitor Stand with Dual Arms is an excellent choice to ensure the best working environment. It's durable, sturdy, neat, and of course, premium-looking to fit any setup.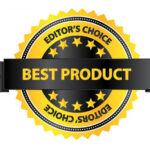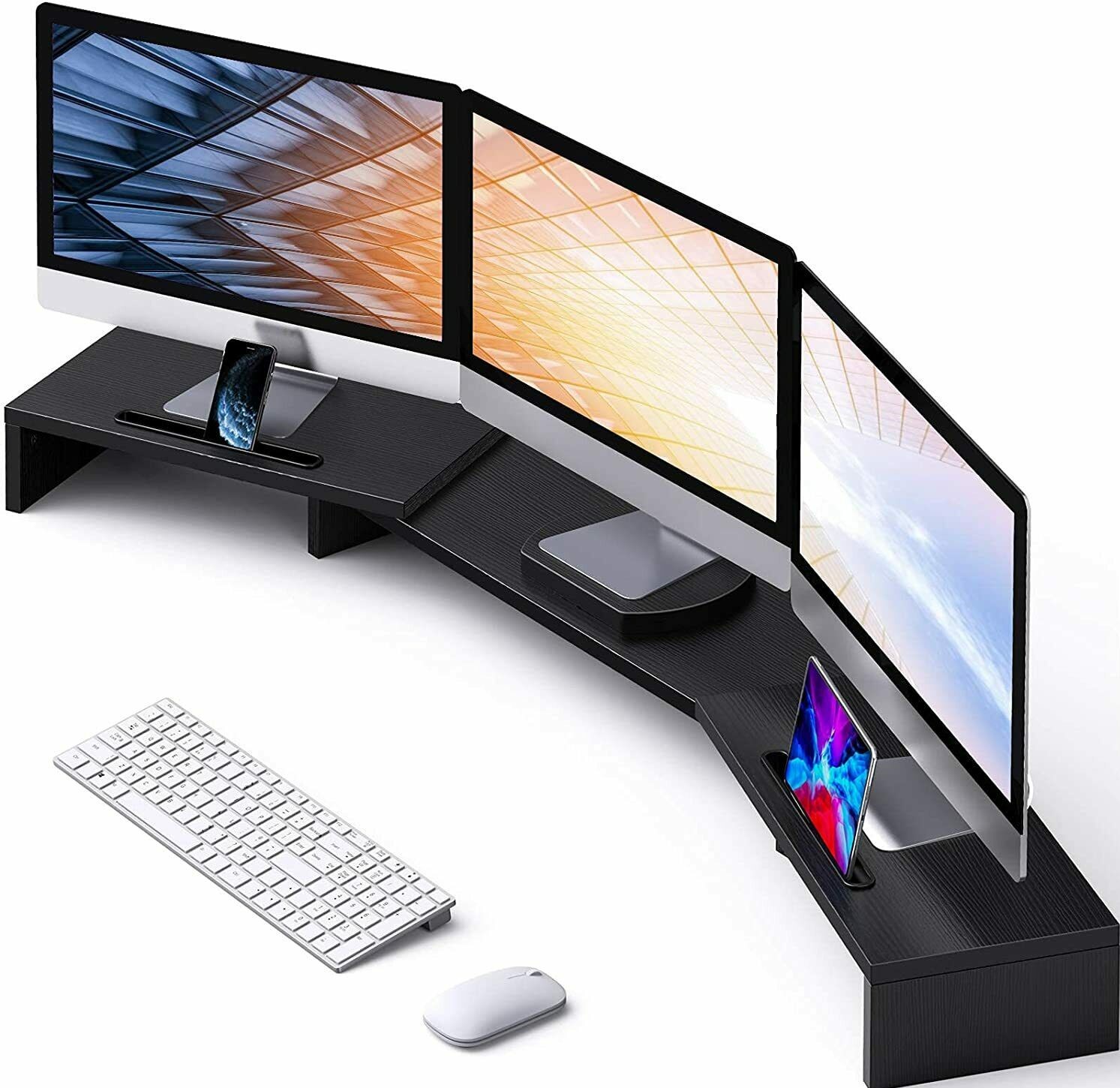 If you're not a big fan of mounting your screens on a stand, then the WorkiManni Monitor Stand is an excellent alternative. Check this out: it offers a retractable frame that can support up to 3 monitors, 2 phone and tablet slots, multi-angle viewing, and extra storage space. That alone can explain why you should get this monitor stand to level up your workstation setup!
But, of course, let's dive deep into some of the specifics. The WorkiManni Monitor Stand can be extended from 32" to 52". Since this is a triple-monitor stand, it comes with a detachable board in the middle to ensure all your screens are aligned to avoid visual distortion. You can even use each stand to customize your workstation setup. You can use it as a shelf for your files, books, printers, etc. In other words, there's a dedicated space for all your electronics and even the non-electronic ones. Talk about value, right?
Now, here's the best part: it supports multi-angle use. You can change how you see your monitors for an optimal viewing experience. You can adjust the angle between the sides and the middle part of the stand to customize your workstation. So regardless of whether you'll use just 1 or 3 monitors simultaneously, the WorkiManni delivers the perfect ergonomics to make "working long hours" bearable.
If you're looking for a basic setup to raise your monitor at a perfect height to correct your posture, the OfficeMate Monitor Stand is our best bet. This one offers you unique customization that free-up space and provides a dedicated space for your phone. With a 16.5 x 9.1 x 3.9 inches dimension, the OfficeMate positions your monitor at eye level.
Honestly, what we love about this monitor stand is its multi-functional use. Since this one is made of wood, you can also use this as a stand for your printer and other electronic devices. Plus, it's really space-saving and keeps your desk tidy. It even comes with a clip-on on the side to manage your devices' cables, which, by the way, is a must-have.
Furthermore, you can also maximize the space available below, such as for your keyboard, tablet, etc. If you're up for a minimalist style for your workstation, OfficeMate is an excellent choice. And it's durable and sturdy, so you'll never have to worry about wobbling or any sort.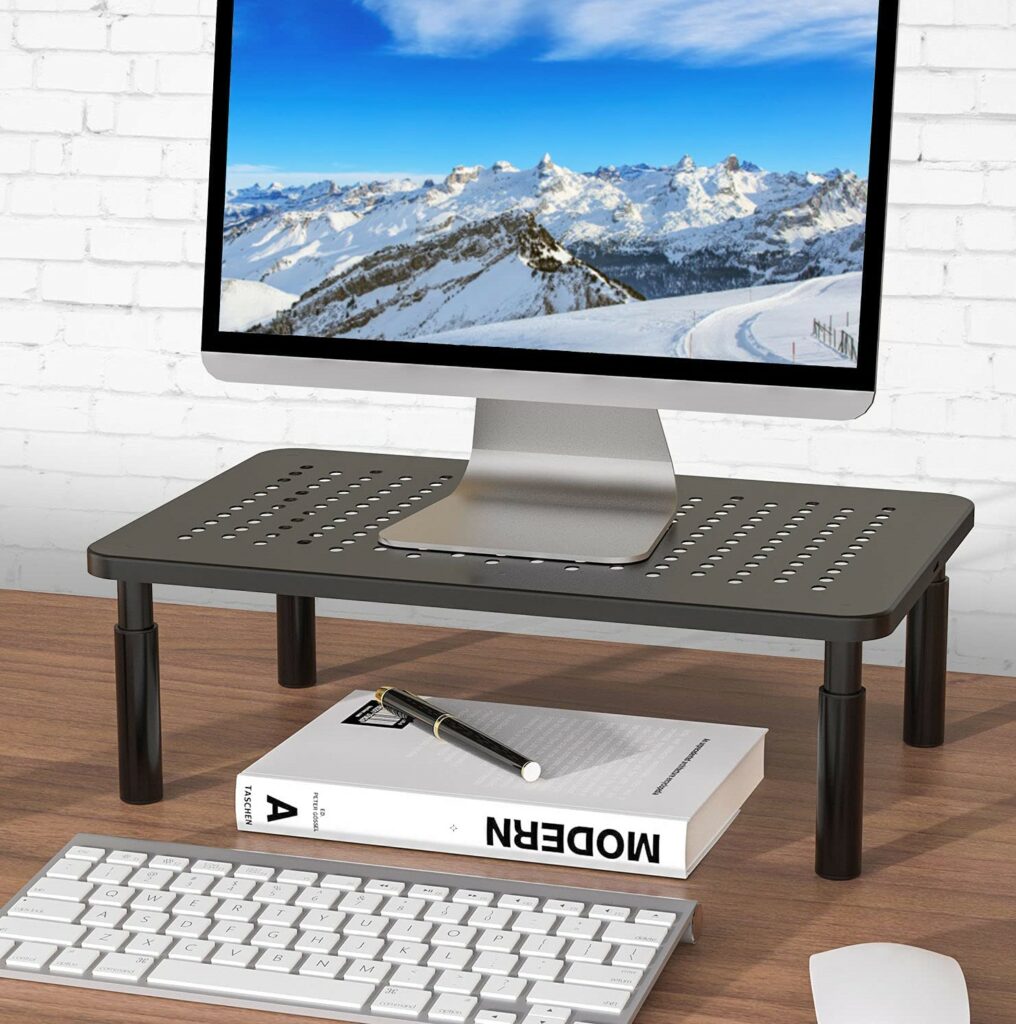 If you're not up for the whole shebang and just want a stand for your monitor and laptop, Go2Basics is the most recommended one. Its dimensions are 14.5 x 9.25 x 5.5 inches, which is high enough to ensure you'll get perfect eye-level comfort while working on your computer. For its ergonomics, the height is adjustable to achieve your preferred working position.
Now, if you think the Go2Basics is also just the basics, you're wrong. This one also provides a very thoughtful design that you'll appreciate in the long run. For its stability, it comes with a non-skid rubber underneath the legs to prevent the stand from moving and protect your working table from scratches. Its construction is also top-notch, with perforated mesh holes to increase airflow and help prevent your devices from overheating.
Overall, the Go2Basics Monitor Arm is a great choice. It's space-saving and multi-functional. You can use it in almost everything that stands.
Monitor stands are an excellent accessory to bump up your workstation setup and make it healthy for your body. But, with so many options out there, it can be a challenge to pick one over the other. However, it doesn't mean there is no basis for knowing which ones are good and which ones are not. So to help you spot the best product for your needs, here are a few considerations you should know before clicking that purchase button.
#1. Size of the stand
You don't want a monitor stand that's too small for your monitor. Always choose a monitor stand with enough clearance to prevent falling over in case of accidents. If in doubt, measure your monitor to ensure you get the right fit.
#2. Your preferred setup
Do you want a monitor stand with arms so that you can freely position the screen at any point you wish to? Or are you looking for the traditional free-standing monitor stand design? Both styles are suitable for promoting proper working posture. It just depends on your preference, especially in achieving your desired viewing experience.
#3. Quality is Key
Of course, it's essential to know if the monitor stand can handle the weight of your monitor. A top-quality monitor stand is often made of heavy-duty materials or wood to ensure it can withstand everything.
#4. Adjustability is also Key
We prefer monitor stands with adjustable features like height and stand extensions. By having such support, you can guarantee the monitor stand can provide eye-level comfort or perfect workplace ergonomics.
#5. Space-saving
Aside from having the ability to adjust according to your needs, a good monitor stand should also be space-saving. You don't want to cramp up your already cramped space, right? So choose products with additional space at the bottom for your other essentials. Or, if a cable management system is available, you can also take advantage of this to clear up those annoying cables.
Conclusion
Proper workplace ergonomics is essential to help you be successful in all your hustles. Just by such a "healthy setup," you can prevent factors like back and neck pain, eyestrain, and even cluttered desks from affecting your productivity. That said, in choosing a monitor stand that's best for you, always stick with the factors that are important to you. That way, you'll most likely succeed in getting the best of the best. But, if you need a little help, these 4 Best Monitor Stands we highlighted in this list are great choices. We've tested them and stand by their claims in providing you with the BEST WORKPLACE SETUP that's 100% posture-friendly and stress-free. So go ahead and get them. You'll thank us.