Review:Top 4 Best Kids Tablet For Learning, Games and Entertainment (Parents Can Use, too!)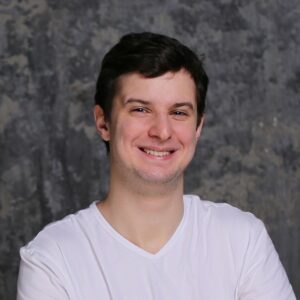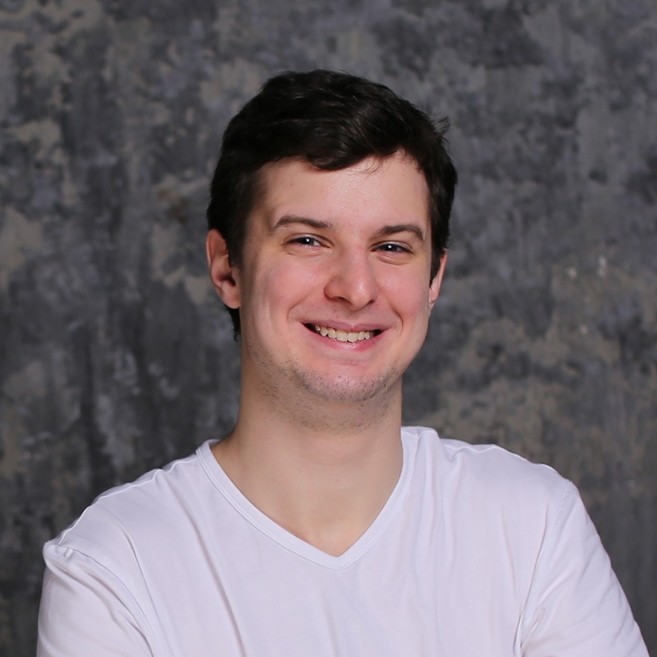 Nathan Gabriel, Contributor
Updated: Mar 8th, 2022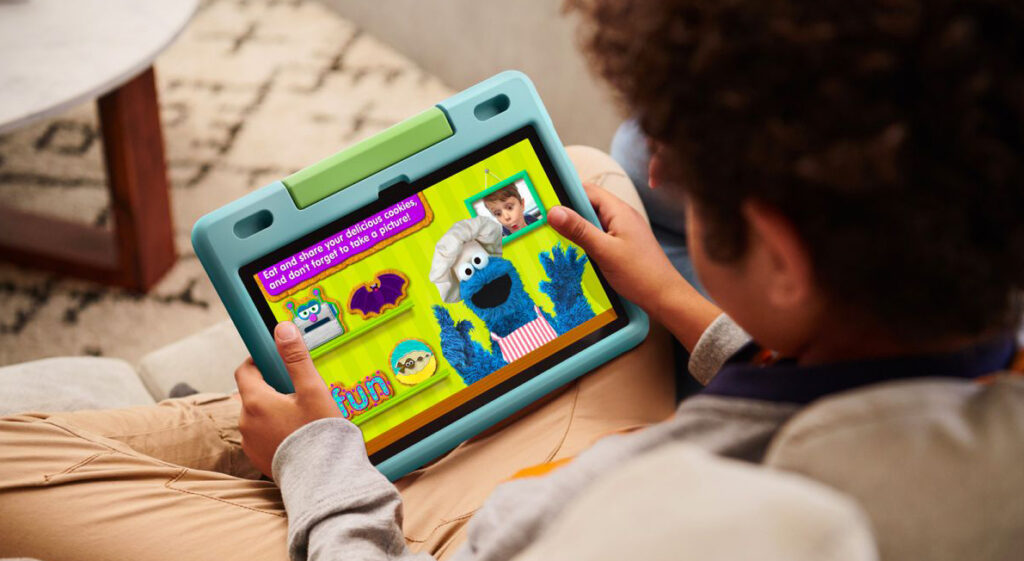 Can you imagine what life would be if tablets for kids were not created? Kids would be hanging out in front of the TV, just taking in whatever images they can. Fortunately, parents won't have to endlessly look for sources of entertainment and learning – all of these resources for learning, entertainment, and fun can all be found in kids' tablets.
If you're a parent who wants to broaden your child's knowledge, skills, and love for fun, you won't have to painstakingly scroll on Pinterest for the best and safest options. A kids' tablet can teach your child in a safe way – your concerns on internet safety can significantly be lowered!
If you're looking for a kids tablet that promotes learning and child entertainment in a way that's safe and easy to monitor, you have come to the right place. In this review, we're featuring the top 4 best kids tablets that will give your kids the tablet experience (and you, better peace of mind.)
What to Look for in a Kids' Tablet
"The tablet's just so slow! We ended up not using it at all!"
"Our child did not enjoy the graphics!"
"We can't even download his favorite applications!"
These concerns from frustrated parents are real — and they're many. One of the biggest reasons why parents shy away from tablets for kids is because they feel they're not worth the money, and they won't perform as excellently as existing mainstream tablets.
Our team of parents have felt and gone through the painful ordeal of dealing with low-performing tablets for kids. However, with mainstream tablets, issues of child safety, online predators, and difficulty in tracking child's online activities pop up. As parents, it's easy to feel torn! These reasons pushed us to have a mini project of looking for the best kids tablets to buy in 2022.
We asked tech experts, parenting experts, and child learning experts to help us determine the best tablets to recommend to parents in 2022.
From all our interviews, we were able to come up with a quick guide on what to look for when choosing kids tablets.
Operating System
The operating system is the star of speed, and smoother processes in your child's tablet. When buying a tablet for your kids, make sure that the operating system is updated (Android 10, the latest). This will ensure kids won't go all day complaining about how slow and unresponsive their tablets are.
Graphics
Kids love colors, and icons. When the images are not as stark, kids might lose interest. Check the graphics and its projection for better buys.
Speed
One of the most common let downs of kids' tablets is they can seem slow when it comes to responses to prompts and touch. When getting a tablet, consider the speed.
Easy to Understand Functions
A child-friendly tablet is always a good buy. Choose a tablet that is easy to navigate for little kids so they won't feel confused and frustrated with their tabs!
Out of all the kids' tablets we reviewed, here are the top 4 products that stood out.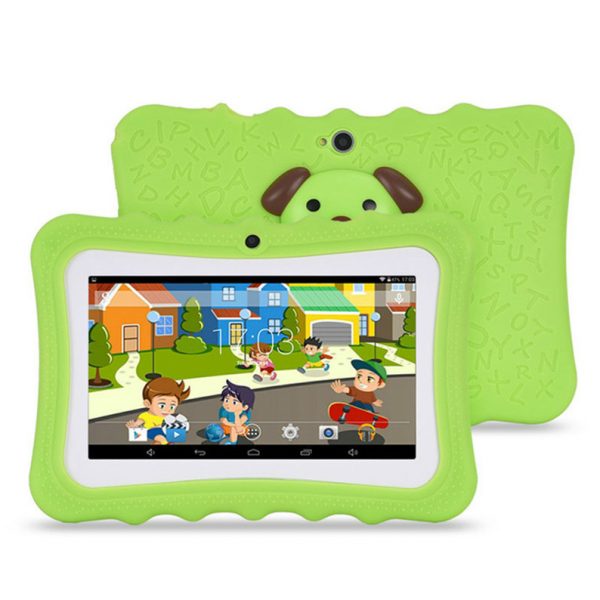 Main Feature: Great even for kids 4 years and lower.
Are you frustrated when kids grab your phone to watch their favorite cartoons? Is your phone filled with selfies involving half of the face, random burst shots, and blank screens? Have your kids accidentally call your boss, start a Facebook live video, and post photos of you sleeping on social media? If you are looking to set boundaries with your little kids by keeping their little hands off your phone, our recommendation is the BrytTouch.
The BrytTouch is for kids, by kids. Kids were asked to help design a tablet they would love. BrytTouch is made with simple operations, and a non-complicated interface that is less overwhelming to younger kids and toddlers.
We also noticed that the BrytTouch comes with a brighter, more stark display of colors and graphics – exactly what younger kids would navigate to when it comes to learning!
One thing parents love about the BrytTouch is it already comes with mom and dad recommended applications and videos for kids. But you still have options – the tablet accommodates streaming applications like Youtube, and Youtube kids so your tykes won't miss their favorite channels!
We also love the fact that this product includes a heavy – with an H – duty screen and tablet protector. It's like the creators of this tablet truly know how to protect the device from spills, bumps, falls, and little kids stepping all over it!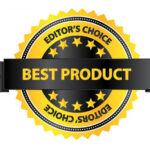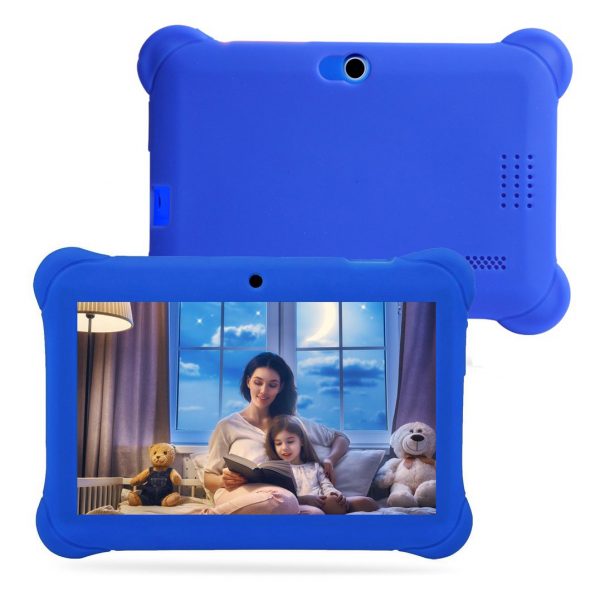 Are you looking for a tablet that can also accommodate games? We do believe that all work and no play makes Jack a dull boy. We've found tablets good for school but terrible for gaming and we all said – nope, no can do. That is why when we found the Bambizzle, we all said "This is the one!"

Bambizzle is perfect for learning and gaming. If you have students who want to unwind by playing games on their tablets, this is a great option. The Bambizzle comes with a powerful quad-core OS that can keep up with the demands of the most popular mobile games. Kids can install all the latest video games on this tablet.
This is also perfect for online schooling – your young learners can get on Skype, Zoom, Google meet and Canvas easily. The tablet's high resolution display, coupled with an improved sensitivity to touch commands make it an ideal device for learning, school projects, entertainment, and gaming.
If you want to give your kids a better gaming and learning experience with a high quality tablet, the Bambizzle is an excellent choice.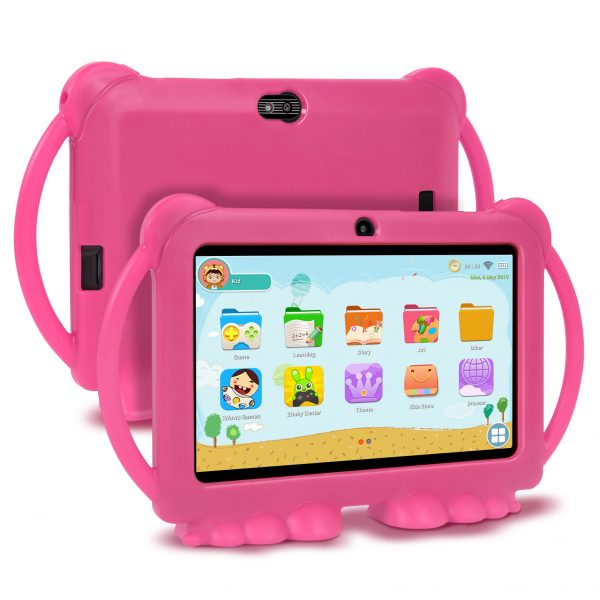 Main Feature: Ideal for online learning, and online educational applications.
Do you have kids that are starting online schooling? Do you want to give them their personal tablet for all their learning needs? For parents with little learners, we highly recommend the TabbyGlow.
What we love about TabbyGlow is it supports online learning efficiently. It comes with an advanced operating system for speed, and one that supports online learning tools like Zoom, Google Meet, Canvas, and Skype. This tablet alone is enough to help your child participate in the online learning platforms.
With the TabbyGlow, parents can appropriately balance learning and fun. The tablet can accommodate most distant learning applications that can supplement a child's daily school lessons. The great thing about the TabbyGlow is that it comes with an option for parents to customize the applications that go into the tablet.
We are confident to say that this tablet can keep a child's focus effectively. It comes with great graphics, it shows bright display and color, and bursts out high quality sounds from top rated speakers.
When it comes to fun, TabbyGlow also stands out. It supports all types of video streaming applications like Youtube, and Discord.
The fun part about TabbyGlow is it can also be used by parents – it's like a mainstream tablet with loaded safety features. Great for preschool, and primary school kids!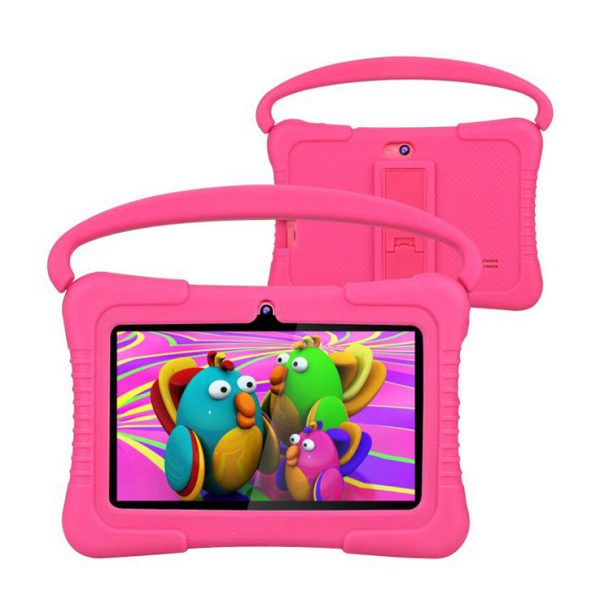 Main Feature: Kid-friendly Mode, Allows Safer Tablet Experience for Kids
Are you worried that your kids might run into something malicious and dangerous online? Understandable! The threats online are not reserved only for adults – even kids are considered main targets. If you want a kids' tablet that can also double as a safety device for monitoring their activities and conversations online, we recommend the LearvaBub.
What made the LearvaBub stand out for us is its Kids Safe Mode. In this mode, we – the parents in our team – were able to customize the applications they can access, the website they can visit, and the applications that can be installed on the tablet.
The Kids Safe Mode also filters applications and videos so parents still can find fun and helpful applications without spending hours reviewing the internet to find some. The Kids Safe Mode also allows you to scan through conversations that might be harmful for kids.
The improved quad core of the LearvaBub makes it an excellent, and uber-responsive device that kids will definitely enjoy. It's sensitive to touch commands, and quick to load applications and pages!
The tablet also comes with a child-friendly interface where kids can enjoy simpler commands and controls, easy to understand options, and quick, simple navigation. And yes, parents can also use this for their heavier, more advanced applications. Truly a device that keeps your kids safe while continuously giving bang to your buck!
The tablet already includes a heavy duty protector to keep the tablet in pristine condition after several bumps and falls.
Tablets are heaven sent! They literally help parents in keeping their kids active, and engaged in learning activities. Tablets also help save parents' sanity – let's be honest there. The tablets we presented above have been personally tried, tested, and reviewed to ensure that you will get the quality tablet for your family.